Prophet River Firearms welcomes all stories and/or images of our products in use. Email calvin@prophetriver.com to share your latest hunt or recent experience and it just may appear in this spot!
We like details, so let us know the gun, location, date and animal.
All photos may be clicked on to see the original.
Clay Smiley - May 7 2021
Black bear. Cooper M52 Custom Classic, 375 H&H
Sam Battams - March 2021
Huglu 200AC 16Ga - Guided Ringneck Pheasant and Chukar hunt in Southern Ontario
Brent Gust - Nov 21, 2020
Shot my 2020 WT with my LAW M704 Carpa in .280 Remington in West central Saskatchewan
Gross score 172 0/8 Net score 166 5/8
Ryan Quaraq - May 2019 - Pond Inlet, NU
Shot his first Ptarmagin with Crickett 22lr
Clay Smiley - May 6 2020 - Saskatchewan
Taken with a Cooper Custom Classic 240 Weatherby. New Zealand Wood, Swarovski z5.
Kanayuq Angutingunirk
Caught this polar bear December 7 2019 with my 6.5 creedmoor I ordered from you guys with the ziess optic location 20 miles north from kugaaruk Nunavut
Will Challenger
My daughters first buck. Shot south of Chauvin with a Howa 243.
Cally shot this deer on November 23. As you can see she was extremely happy with her deer
Dale Hislop - Oct 17 2019 - Kodiak Island, Alaska
Ridgeline 300 Winchester Magnum purchased through Clay Smiley at Prophet River Firearms.
Factory loaded Barnes 180 grain TTSX BT VOR-TX shoot lights out with this rifle & a Leupold VX-5HD 3-15 X 44mm
B.J. Dawydiuk - Winter 2019
This is my son Barrett with his first Peace Country Whitetail taken with his Browning X-Bolt in 30-06 fitted with a Vortex Diamondback 4-12×40. He did his homework and saved his cash to help pay for his first rifle. Thanks Clay
Darcy Knight - Fall 2019 - Big Whitetail scored 301 inch.
Was taken near Meadow Lake Saskatchewan on our Annual Vantage Point Fall hunt (2019).
Julius Prodorutti - Jan 2019 - 3 hours northwest of Edmonton. Near the Athabaska River.
Shot with a 30-30 Winchester with Federal Ammunition.
Mel Marshall - 2018 Archery mule deer - Porcupine Hills of southern Alberta
After six days of hard hunting, this spot and stalk archery mule deer was shot at a range of 51 yards in the Porcupine Hills of southern Alberta...now for rifle season!
Tanner Frissell - November 14th, 2017 - Harvested South of Irma, AB
Taken with a Weatherby Vanguard S2 in 270 Win.
Shot around 4:30pm, just before dark.
He's no monster, and it was a long hard night getting him out of the bush, but he'll taste great! :)
Thanks to Sheldon Frissell for being an amazing guide and helping me bag a bull and do the dirty work!!!
Clay Smiley - Nov 2017 - Cooper Custom Classic 375 H&H Battle River in NE AB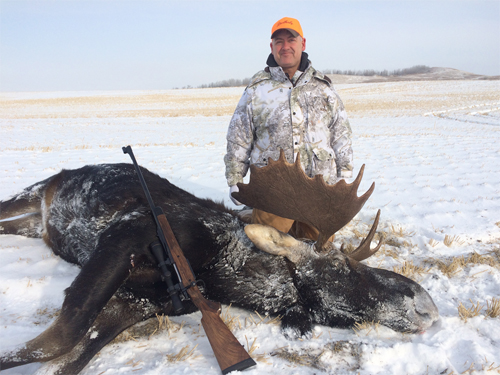 Dylan Belliveau - Sept 10 2017 - Saddle Hills, just outside of Spirit River Alberta.

Here is a pic of my Huglu 28 in action as promised. I love this little gun!
The grouse was shot with my 28g Huglu single and Fiocchi ammo both bought at Prophet River.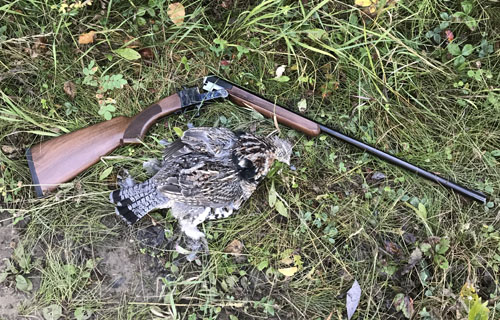 Darcy Knight - March 2017 - South Africa
George Prue - Oct 17 2016 - Jellico, Ontario.
In my mind it was not really a hunt day as it was raining pretty steady, only problem was, our cabins were non-smoking and we like our cigars so it made no sense to be anywhere but out in the bush. It was just after lunch at 1:00 pm, the rain had slowed down considerably so I finished my cigar, placed a call and decided to go for a walk.
His rack measured in at 56" in the bush and he came in just short of 1500 pounds. I took him with a Cooper (Jackson Hunter) chambered in 340 Weatherby.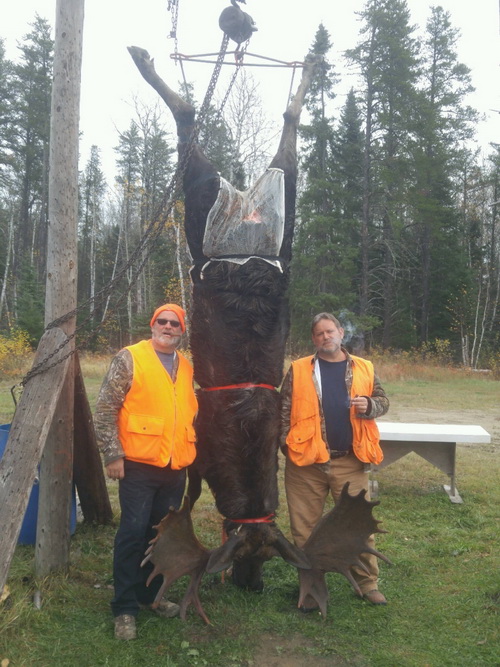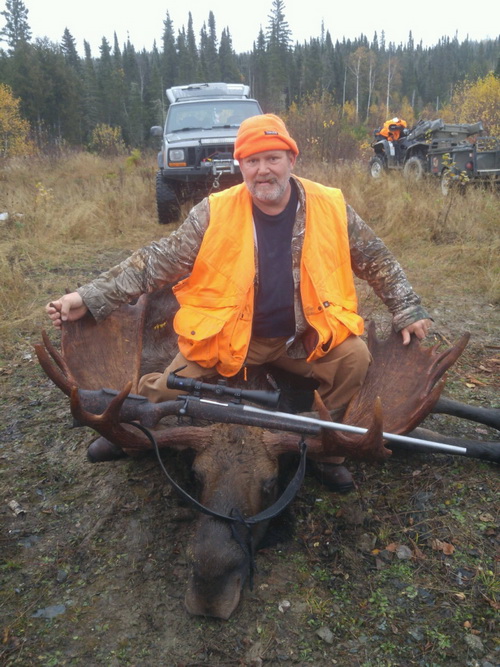 Jake Tauriainen - Oct 2016 - West of Williston Lake, BC - pic is Arno Tauriainen with his first moose ever.
We had a great hunting trip with both my father and my brother shooting moose. My brother's was a 56" monster. It walked out in the bright afternoon sun 100 yards from us and he shot it with a .308 Winchester loaded with 180gr Partitions. Go figure, eh? Didn't really need long distance shooting for that one! But I wanted to tell you that my SIG rangefinder worked amazing. I ranged to a maximum of 2006 yards to a treeline (in the evening). I managed to take a photo through the rangefinder at 1950 yards. My cousin's Leupold RX-1200 wasn't able to keep up to the SIG. The SIG's usual max yardage on trees during daylight was 1100 to 1200 yards. If I held the rangefinder on a rest it would do better but I would just hold it with both hands and range things. The Leupold would only do about 800 yards.

Anyways, thanks again for the great product!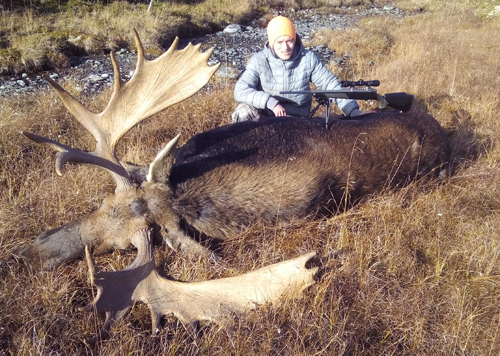 Edwin Sunderland - Summer 2015 - Luke and Owen
Ed is the Manager here at Prophet River Firearms. These are his twin boys. Luke is the top picture and Owen is the bottom picture.
Age 8.
Crickett 22's - Christmas gifts - first guns
Gopher - first hunt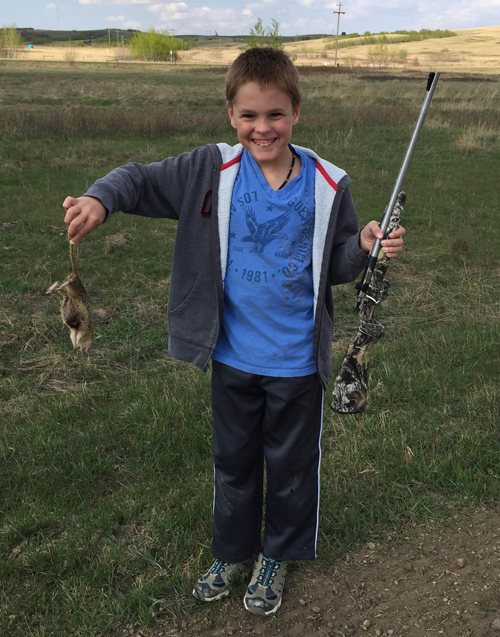 Chuck Blyth - Nov 2015 - Saskatchewan
One shot from in close with the Ruger M77 RSI stainless 7x57 or 275 Rigby I think Clay calls it. Luepold 3x9. I told Clay bet you never thought you would see this rifle out actually hunting deer. He said nice gun, nice deer. Don`t loose that rifle it would be hard to replace.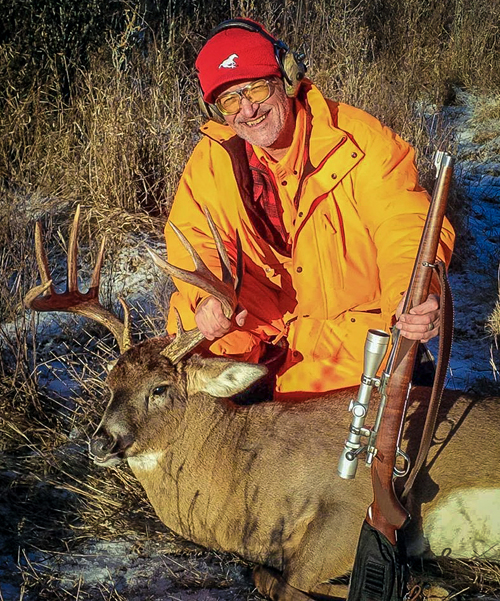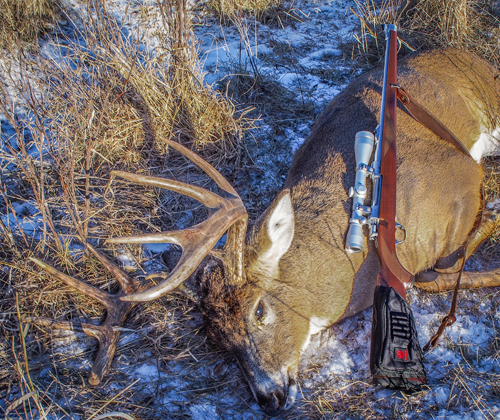 Gary Villemaire - Nov 2015
Hello Again!
Although I did not pull the trigger this year, my son, Tyler Villemaire found what he was looking for. In November of this year, 2015, he harvested this 51" bull moose and a big 4x4 whitetail. Both animals were taken with his Cooper Model 56, chambered for the 7mm STW.

Happy trail to everyone!
Gary Villemaire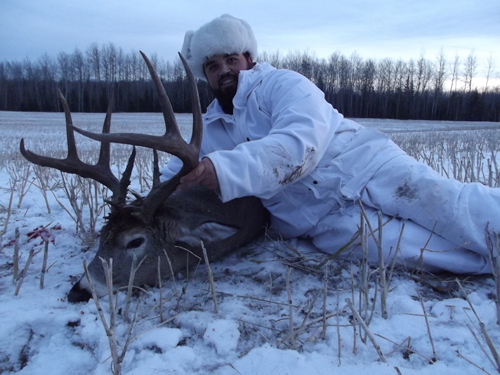 Gene Gillich - Aug 2015 - Northern BC.
Myself and Joe Galandy went to Northern BC for the second time. I was able to take a nice goat, and Joe took this beautiful Caribou. The goat was taken on Aug-28 at 412 yards. The rifle was a Forbes in 7-08 hand loaded with 162 Amax's. Two days later Joe took his caribou at 655 yards. His rifle was a Rem Sendaro 7RM loaded with 168 Bergers.

A big thanks to Clay and his staff for all the great service over the years.

Thanks
Gene Gillich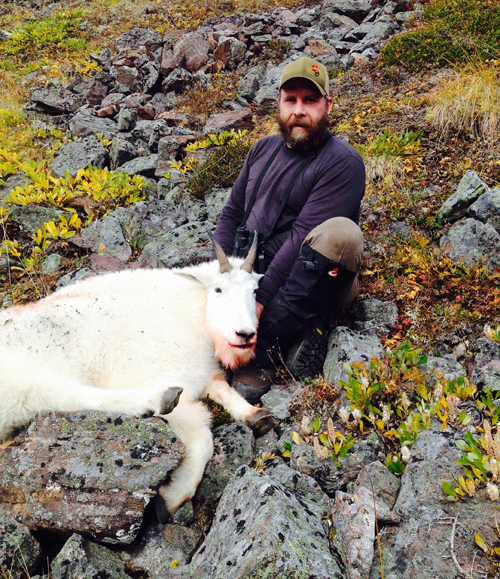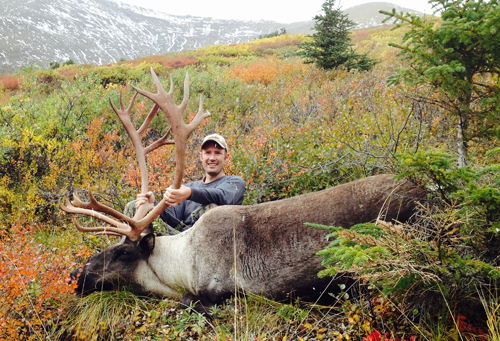 Bonus Pic. I had to include this one. Click to see the full size great view they had.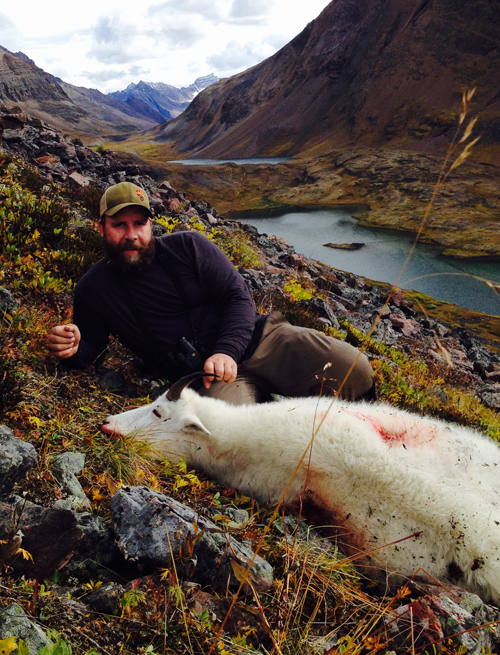 Jason Nelson - May 2015
The back story is these 2 bulls escaped from a buffalo farm and were on the lam for 2 weeks and we just happened to find them hanging out at a friends farm who we shoot gophers for. We talked to the owner of the Buffalo that night and he said that if we could get them and had enough gun to take them we could and then he would come get them. Both were shot with coopers from Clay. The one I shot was with a model 52 in 8mm rem mag. The only one in Canada. Used a hand load with 220 grain a frames. The other was shot with a model 56 in 375 h&h and the load was a 260 grain partition. The 375 dropped the other one with one shot. Hit was a little high behind the shoulder and it broke its spine and then stopped in the off shoulder somewhere. The 8mm went through on the first shot. Behind the shoulder and in through. The second one he was quartering a little and it went in behind the near shoulder and stopped against the hide after going through the off shoulder. Bullet still weighed 203 grains after going through 3' of buff. The owner gave us a quarter of the meat and we both got to keep the heads for European mounts.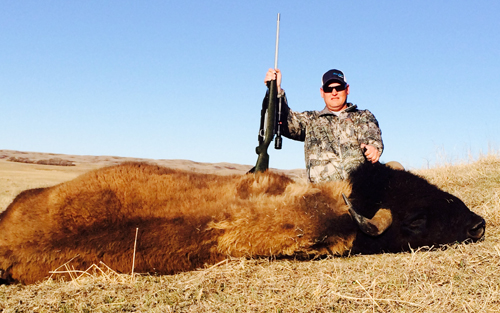 Alain Roy - 3rd Week of Sept 2014 - Pourvoirie, Domaine Desmarais.
I could't resist sending this picture of my wife (Mylene) on her first hunting experience and her first grouse with the shotgun I purchased last spring. It's perfect for her.

Merry Christmas.


Gary Villemaire - Nov 2014 - Near Slave Lake.
Hello guys!
Here is my son, Tyler, and I with my 2014 whitetail buck that I harvest on November 29, 2014 near the town of Slave Lake. I harvested the buck with a Cooper Model 52, chambered for the 6.5x284 Norma. This firearm works flawlessly, and the cartridge (6.5x284 Norma) has accuracy beyond no other, quarter inch grouping are most common. Thanks for selling such fine firearms. Merry Christmas to all the staff and their families at Prophet River Firearms.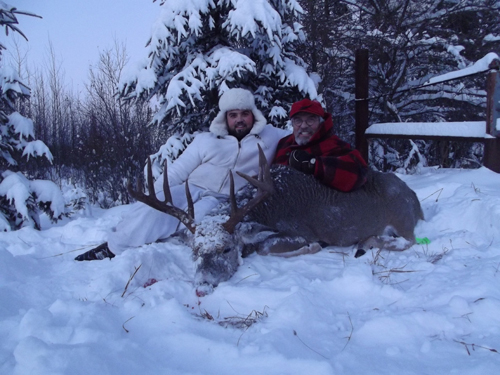 Melissa Gulbraa - November 23 2014 - near Wainwright Alberta.
Taken with a cooper M54 257 Roberts ai Jackson game.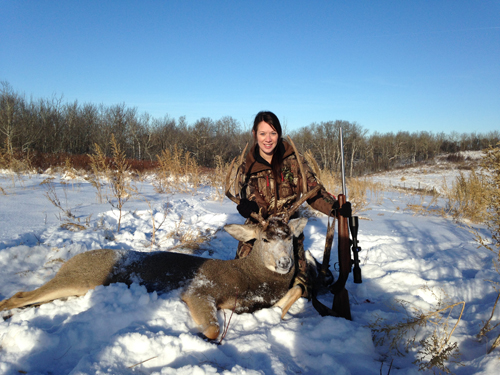 Justin Marmulak - Nov 9 2014
Taken with a Weatherby Vanguard 270 Win.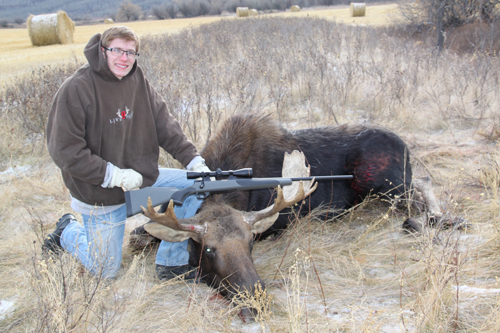 Tyler Villemaire - Oct 20 2014 - near the town of Walsh Alberta.
This is my Antelope that I took using a 240 Wby Mark V Euromark that I purchased from prophet river firearms in 2010.
Guy Pulvermacher - Oct 8 2014
An auspicious beginning this morning... first ever shot taken with the new shotgun, got two ducks on the flush. The Gadwall I was shooting at and a bonus blue wing teal. Chewie made two excellent water retrieves to hand. Hello supper! Life is good!
Darcy Knight - Sept 25 2014 - Northern Saskatchewan
I took this non typical with my 300 H & H Cooper Model 56. NT included a 3rd beam, 3rd brow tine and smaller points not really visible from the picture.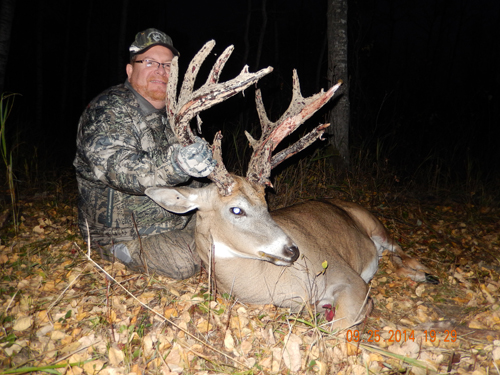 Paul Pelkey - Sept 23 2014 opening day just a couple hours into the hunt - Western Central New Brunswick
It was a Cooper model 52 Jackson Hunter in 280 Ackley improved shot with a 150 grain Barnes TTSX bullet.
Brian Gallup - Sept 4 2014 - African Dawn Safaris, Waterberg Mountains, Limpopo Province, South Africa
Exciting stalk at close range for over one hour. The wind kept changing and the leaves were dry and noisy. 375 H&H. 300 gr. Cutting Edge Bullet solid. 2,500 fps. Bull was facing me at 60 yds. and bullet went through the heart, into the gut. Bull ran 45 yards and fell over dead.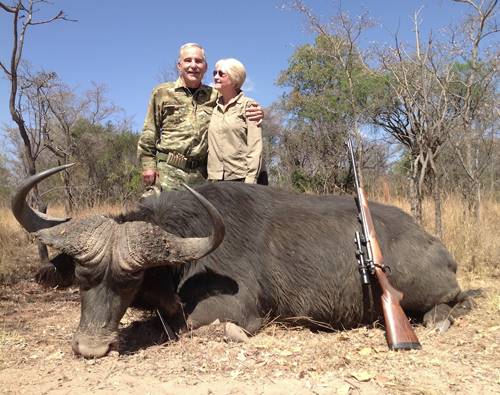 Barnett Schweiger - This caribou was hunted in the surrounding area of Inukjuak, Qc. September 2014.
Another fine animal harvested with my B&C equipped Remington 700, in .243. Even after a tumble with the atv wich I was pinned under for a minute or so, the Leupold VX-3 scope kept a reasonable point of impact. Cartridges used are 100g Hornady.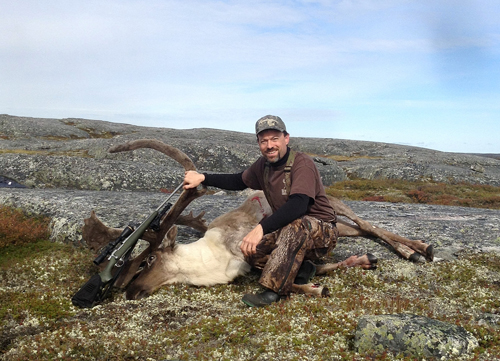 Darcy Borgstrom - Africa 2014
Charles Blyth - May 15, 2014
Latest Photo. John Adam and I were at the range in Ft Smith Last week. I realized that all three of us were shooting rifles and I think the scopes were all purchased from Prophet River.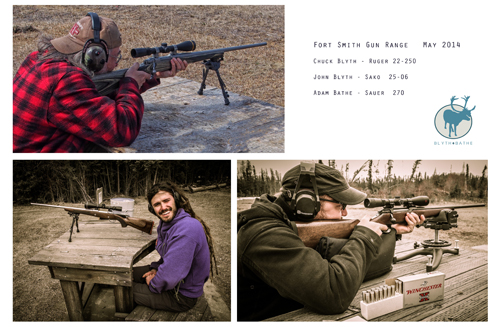 Darcy Knight - Apr 28, 2014 - Africa visit with the 300 H & H
Clay
The Cooper has performed flawlessly. A perfect caliber. Six animals in 4 days of hunting. I'll send more pic's when I get back.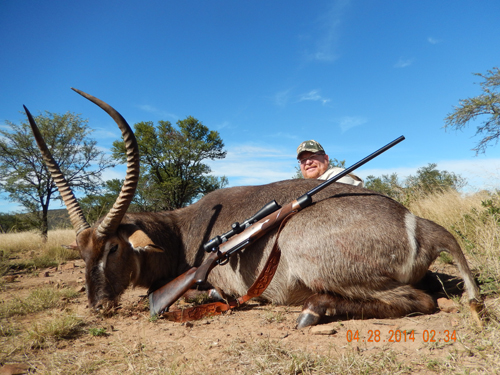 Here are the next set of pics from the same trip.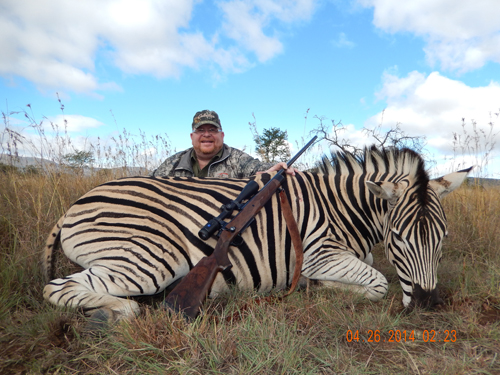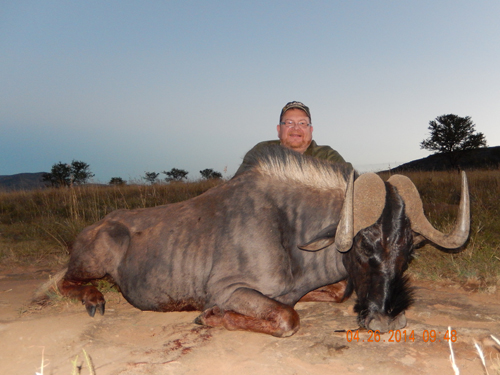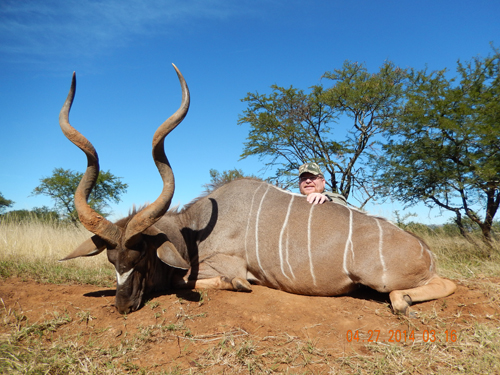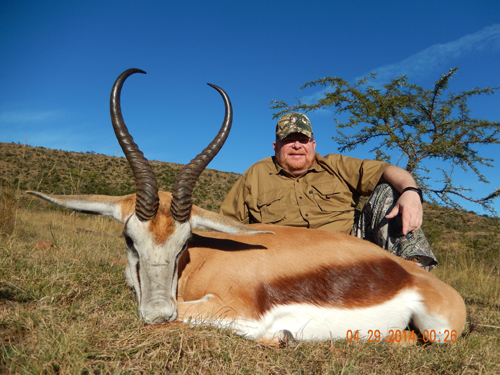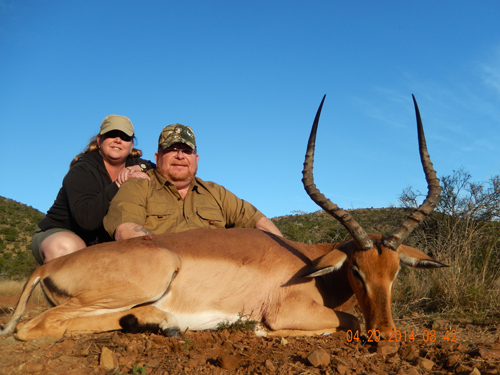 Tristan Paniak
Coyote taken January 18/14. South of Vermilion. Taken with a Norinco T97 @ 275 lasered yards. 1x Bushnell AR scope. PURE LUCK!!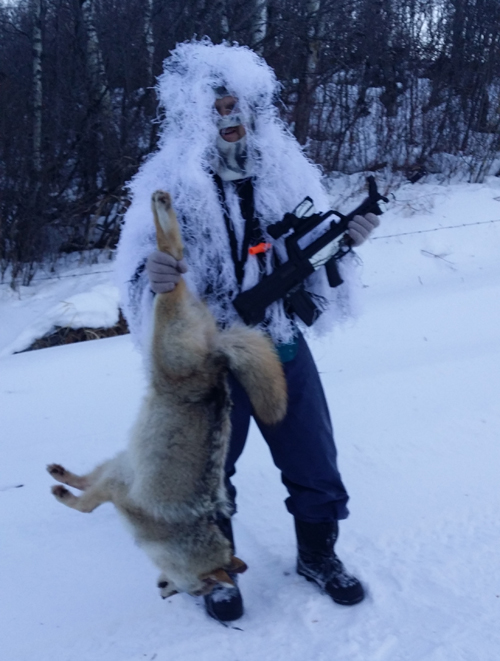 Chad Lauinger - Christmas Holidays 2013 - Around Goodsoil SK.
Sending a pic of some coyotes and a fox me and my son Cole got this winter using my Cooper m54 Phoenix in 22-250 and our Fox Pro.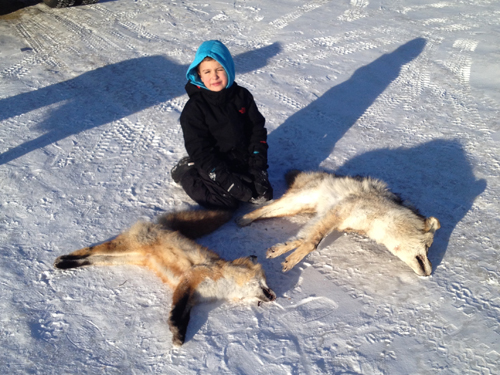 Tyler Villemaire - Nov 18 2013 - near the town of Slave Lake, Alberta.
Hi Clay, enclosed are a couple of photo's of my 2013 Alberta whitetail. The buck was taken with a Cooper model 56 chambered for the 7mm STW. The buck was spotted 500 yards away and shortly after harvested at 40 yards. I hope that you and your staff had a great season likeI did.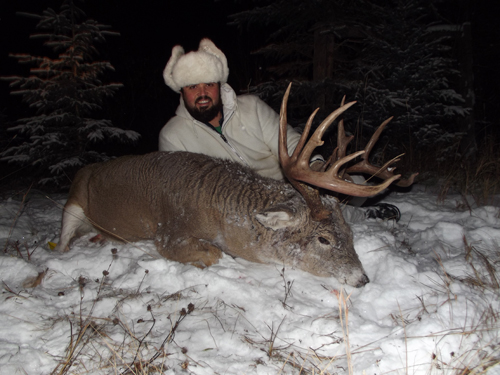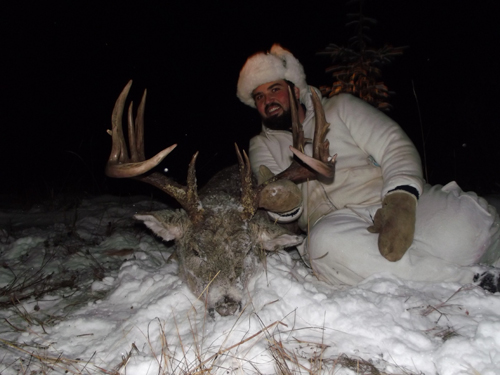 Gary Villemaire - Nov 7 2013.
Hi Clay! - I thought that I would send you a couple of photos of my 2013 mule deer buck that I harvested on November 7th. The gun was taken with a Ruger #1 chambered for the 300 H&H. It roughed scored at 195 B&C gross. Regardless of score he is a fantastic buck. Tyler had accompanied me and witnessed the hunt onfold. It was a 489 pace distant shot, my longest to date. Nothing better than a father and son team. Best wishes to you and your staff this hunting season.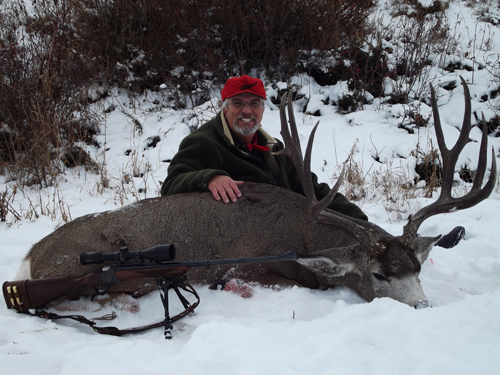 Darcy Knight - Last week of Sept 2013
These animals were taken on a hunting ranch in Northern Sask. The Black Hawaiian Ram was taken after 8 hours of spot & stalk. Both were taken with a Cooper in 280 AI, 165 nosler partition.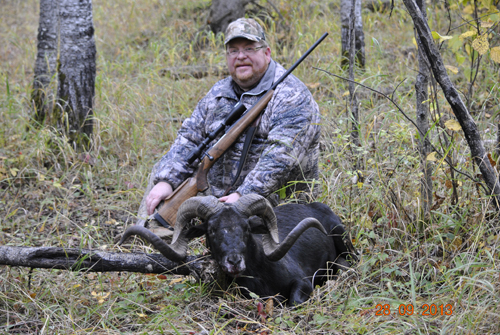 Chuck Blyth - Sept 29, 2013
Shot in the mountains of the NWT, with a 300 RCM I bought from consignment at Prophet River. My friend called it in from the other side of the valley. It walked down to the edge of the lake below us. I shot it from about 100 yards horizontal but about 50 yards above it. We waded across the river/lake waited for the others to bring the canoes, cut it up and paddled about 5 miles back to the camp.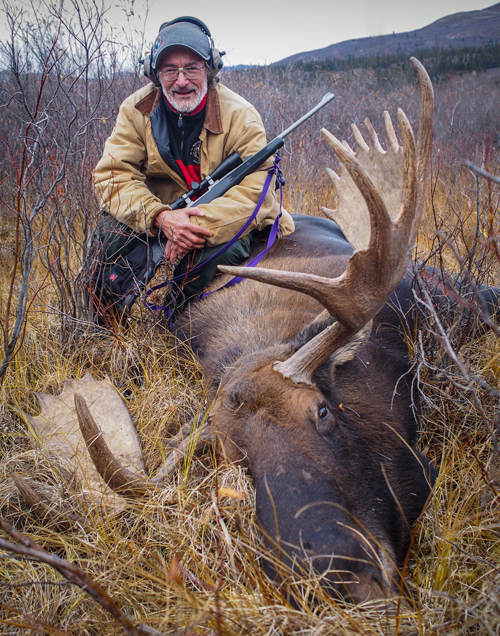 Shawn Rebman - Sept 27 2013
Northern consestion of the Yukon with Blackstone outfitters, the rifle I used was a custom built 358 shooting times Alaskan built on a sako 75 action. Shooting a 250 nosler partion bullet, one shot from it at 153 yards and the bear never knew what hit him, he went about 30 yards and fell over. It was my second try up there for grizzly and well worth it for sure!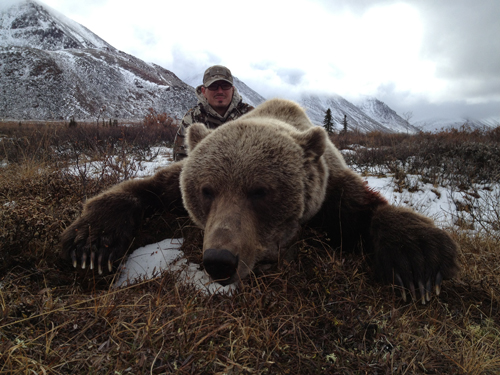 Felicia, Ben and Dustin - Mid June 2013 - Farmland surrounding Lloydminster/Lashburn/Maidstone.
Taken with a Remington 308. Felicia works here at Prophet River. If you have called us you have spoken to her. These are a couple of nice shots.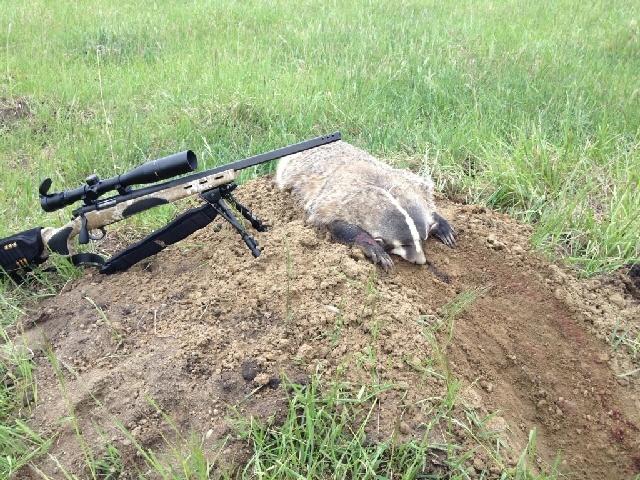 Yvan Turcotte - Northern part of the Mauricie Reserve near La Tuque in Quebec, besides the Libellule (Dragonfly) Lake - May 30th 2013.
The gun was a CZ 550 Safari Classics in the 375 H & H caliber. I reload my ammunition and the bullet was a Nosler custom brass case with a Nosler Accubond of 260 grains. I used 67 grains of IMR 4064 powder and the case was crimped on the bullet. Specs were within .02 millimetre of COL for the case and the powder load was within .01 grain of the desired load.
The bear was weighed at 275 pounds.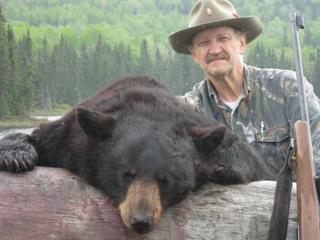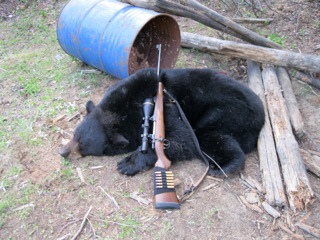 This is Chuck Blyth, May 2nd 2013 breaking a stock. Now Prophet River is helping him find a new one.
John Blyth and Natalie Anderson paddle home after shooting a moose. Somewhere in Canada's North. This photo is currently exhibited in a national show "auroraboreausome" in Ottawa. Clay got John the Nikon scope, you see in the pic.
Be sure to click the Canoe picture to see the original full picture. Its another great shot that Chuck took. This one was taken in Sept 2012.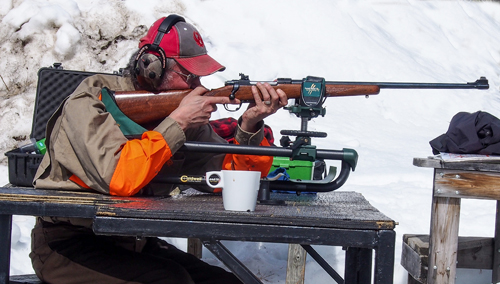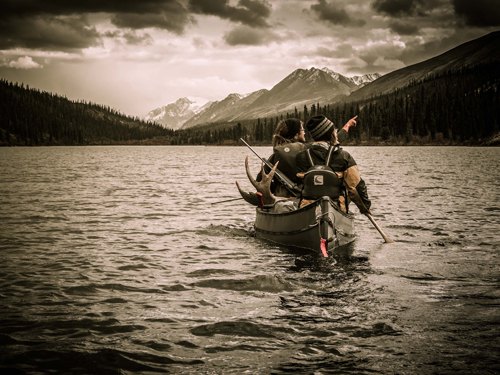 Scott Bigelow - Last 3 weeks of April 2013 - Africa
Hey guys heres a few for ya, everything was killed with the 375 ruger we put togeather.
All gold medal animals, eland bull is 40in very good.
Could possibly be one of the largest giraffes taken in Niambia ever, just waiting to find out.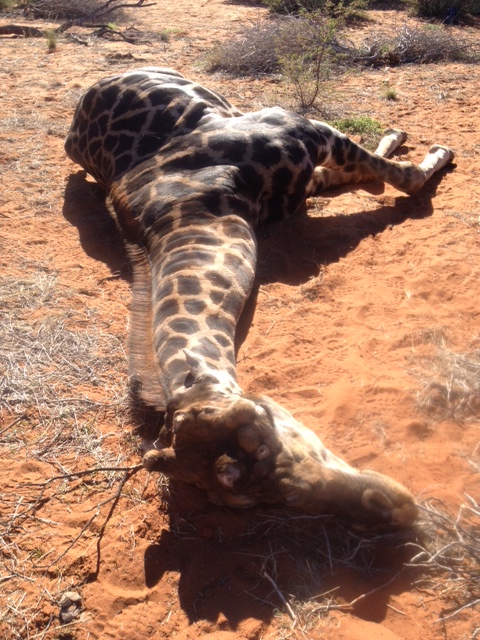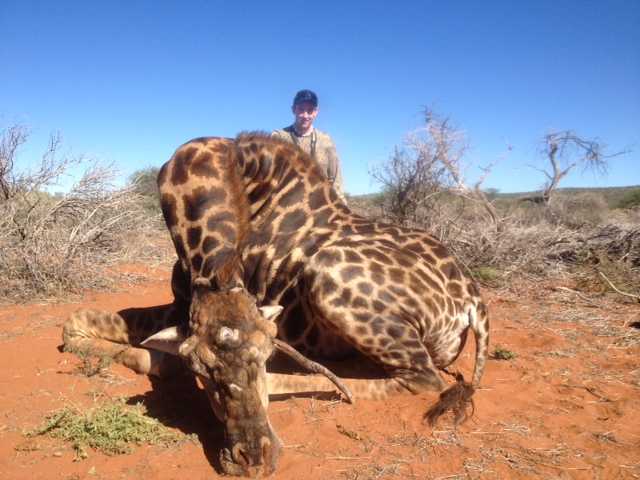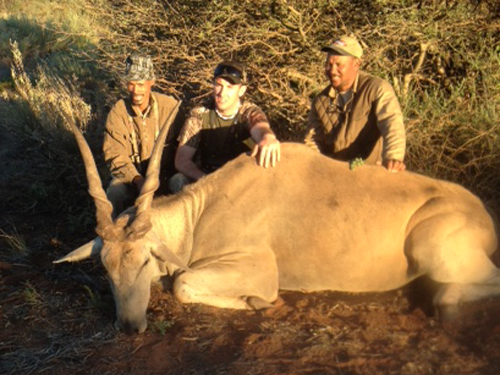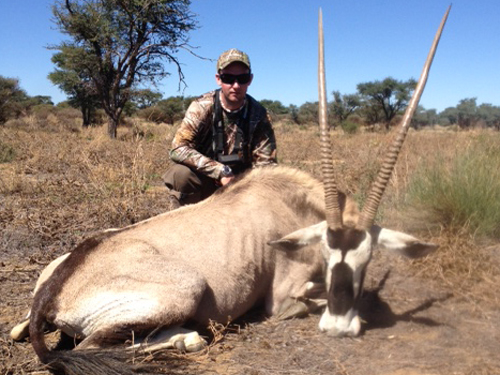 Holly Garton - Nov 25, 2012
Left handed 7mm was used that I rec'd as a early Christmas present
The moose was taken west of Paradise Valley. On Sunday, November 25th.
My first big game hunt.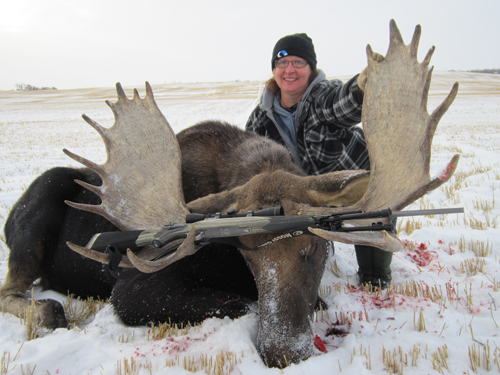 Jeff Macdonald - Nov 17, 2012
Hunted in wmu 248. Strathcona county
1 shot from a rifled Remington 870 shotgun at 40 yards. Heart and lung shot.
First deer I have ever taken.
My buddy and mentor was sitting in a stand 75 yards away and watched me take the shot.
Awesome day.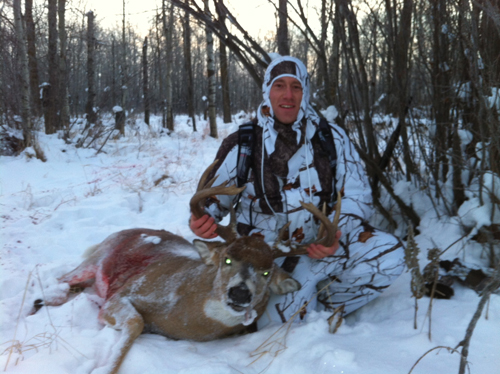 Gary Villemaire - Nov 15, 2012.

My 2012 Alberta whitetail buck taken in the Slave Lake area on November 15th 2012. Taken with Cooper model 52 chambered for the 280 AI.
Tyler Villemaire - Nov 8, 2012 - near the town of Stavely, Alberta.
With his 2012 Alberta Prairie Mule deer.Shot with a M56 New Zealand walnut Stock,Cooper custom classic , chambered in the 7mm STW.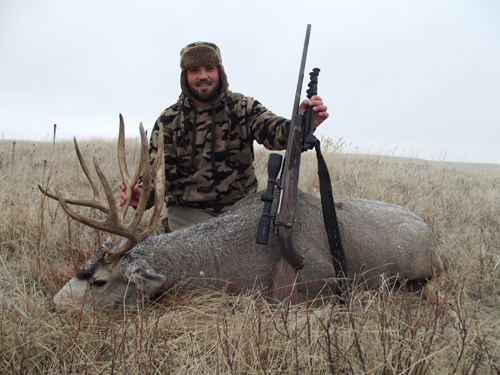 Mel Marshall, President, Safari Energy Inc. - Early Nov 2012.

This mule deer was shot by my camera-shy wife in early November in the foothills of SW Alberta. As we were deer/elk hunting, she had my CZ 550 375 H&H and shot this beauty at 238 yards. Maybe next time, I will get to drive…
Brian Gallup - Nov 2012
Good Ol' Boys at African Dawn Safari, Limpopo, South Africa. One .375 - 300 gr. CP Solid NorthFork bullet. Bull facing in herd at 21 measured paces. Old bull with solid boss.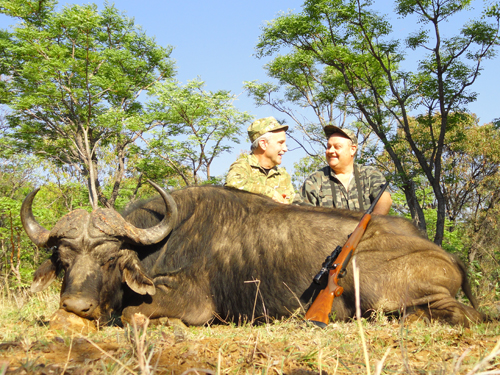 Tony Drain - Grande Prairie County No. 1 - Sept 30, 2012.
Hey told ya I had to take the kids I guess the Kimber 84 L works also , possibly the biggest bodied elk I've ever taken weighed 540 lbs on the hook. Enough playing with lightweights time to bring out the coopers for the rest of the season.

I used a new 84l from you guys in 30-06, my kids are almost always hunting with me and absolutely Love elk hunting. My son called his first bull in for me when he was 6. That's wmu 357.

Cheers Tony
Jacques Franke - Mcbride B.C - Sept 2012 - The legend begins!

Cooper western classic in a 308 all done up, with a Vxl3-4-14.5x 56mm scope

Thanks again for making it possible for me to own such an amazing master piece. Last night I finally had a chance to have a really good look at it and when the sun hit the wood I was left speechless. Must be seen to appreciate. All in all, a very nice set up which hopefully give years of service to my family. Thanks again for all your help and I'll be talking to you again sometime in regards to my next gun.
Here is a pic of the first deer taking with this beautiful gun! My dad is very happy.
I think my dads smile really completed the rifle.
Barnett Schweiger
Early September 2012 in Nunavik, Quebec, just North of Inukjuak. Was out as a group initiation for new staff, and on our way back saw an opportunity to bring back some nice meat. This fine specimen was shot facing me (front chest) as it was bedded, at 290 yards mesured by my Nikon laser range finder.

Rifle: Remington 700, in .243 win
Scope: Leupold VX-3 4.5x14
Ammo: 95 grain Hornady Superformance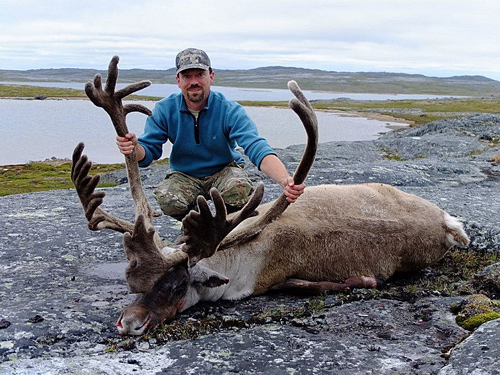 Yvan Turcotte - Lebel Quévillon region of northwestern Quebec - June 2012.
Hi Clayton,
The bear hunt was successful but the big boar didn't show up. Shot one of about 140 pounds. The precision was superb with a shot at 40 yards between 2 tree trunks, eight inches apart and 15 minutes before official darkness. The heat was oppressive with a humidex of +45 c.
Very nice set up with the Talleys. Looking to next year for the big one … I hope.
I've already booked myself for another bear hunt next spring in the LaTuque region
The Victim of the 375 H&H. / Our Camp was the one on the right. A nice place.
Tom Blake - May 2012.
Rosalinde and myself were in South Africa may 2012, Limpo province with outfitter Friggee-De- Toit Safaris we took 17 different species, Rosalinde took a excellent red hartebeest, and Eland.

Lion and Buf were taken with a .458 win mag 600 grain bullets both under 50 yards, everything else was shot with 180 grain nozlers in a 30-06
Scott Bigelow - Spring 2012
My big spring bear, Northern Alberta, 375 Ruger Howa
Gopher hunting with new, 416 Ruger
Mel Marshall, President, Safari Energy Inc.
This was from a hunt in Zimbabwe in August/September of 2011. The gun is customized CZ550 in the good old 375 H&H. Animals ranged anywhere from 30-220 meters.
David Poirier - Sept 2011
One of the 2 small bull caribou taken in September 2011, while hunting with Jack Hume Adventures in northern Quebec.
Rifle: Cooper Jackson Game in 25-06
A great (tough) hunt in a spectacular place.
Thanks Clay (and Melissa) for your great service!
Chuck Blyth - Sept 2011
Hunting Moose and Caribou in th NWT. Chuck Blyth seen here with his Ruger No. 1 in 257 Roberts. Best Rifle I ever bought. Thanks Clay!
Deer Hunting - Fleming Sask - Ruger No 1. 257 - Nov 2011

Chuck sent me other pics as well. The Hunts went well. These have great scenery. So be sure to click them to see the originals.
Gary Villemaire - November 2011
Here is a whitetail buck that I harvested last year (2011) in November . Northern Saskatchewan was the location and the buck was taken with a Cooper model 52 chambered for the 280 AI. Of course the Cooper was purchased at Prophet River. This is the first Cooper of three that my son and I purchased from Prophet River. One shot with a 140 grain Nosler Accubond dropped the buck where he stood.
Craig and Tommy Gabrielson
Oct 2011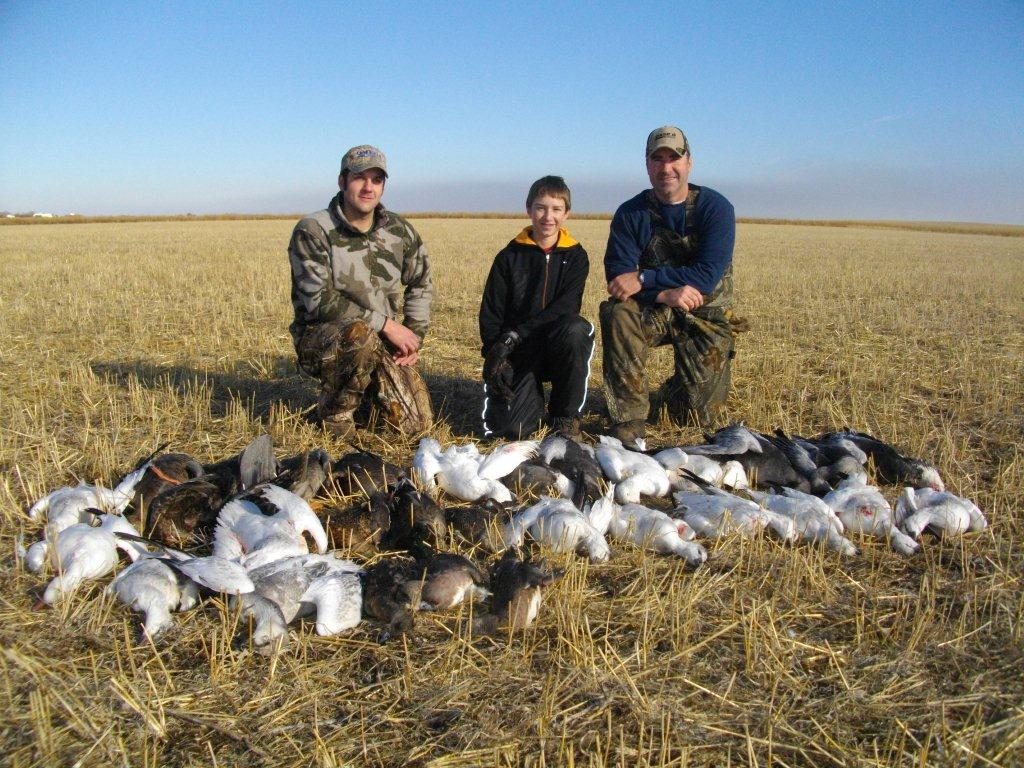 Darcy Knight - Sept 2011 - Northern Saskatchewan
Clay, This is my 2011 Elk taken with my Model 52 Jackson game in 280AI. My new Model 56 Excalibur will accompany me to Africa in April (2013). My experience with these Cooper Rifles thus far has been so good that I am considering selling all my older rifles and replacing those calibers with Coopers.
Alan Dougan - June 2011 - Zimbabwe Safari
The Kudu was taken with one 370 grain North Fork soft point with my custom Huski .416 Taylor...
The Wildebeest was taken with one 300 grain North Fork expandable sold with my .375 H&H Bruno double..
The Buffalo was a difficult take down. He absorbed 3 - .416 - 370 grain softs in the vitals, but still stood in one spot spewing blood. Then it took one 370 grain solid in the spinal neck area to drop him and two follow up solids to lay him to rest. Was able to recover the three softs and the bullets performed perfectly & retained most of there wait. Even though my PH said he was screwed after the first shoulder / lung shot, those damn animals can take punishment ...
P.S. notice the condition of the Wildebeest. Even though he was still with the herd, I was likely doing him a favor by giving him a quick ending after what he endured by Lions ...
Carl Rutley - February 2011 - Mountainview Range West of Olds Ab
BPS 12 Gauge with Red Dot sight, @ 75 Yards
Deadly accurate!
From the day I sighted in my BPS slug gun.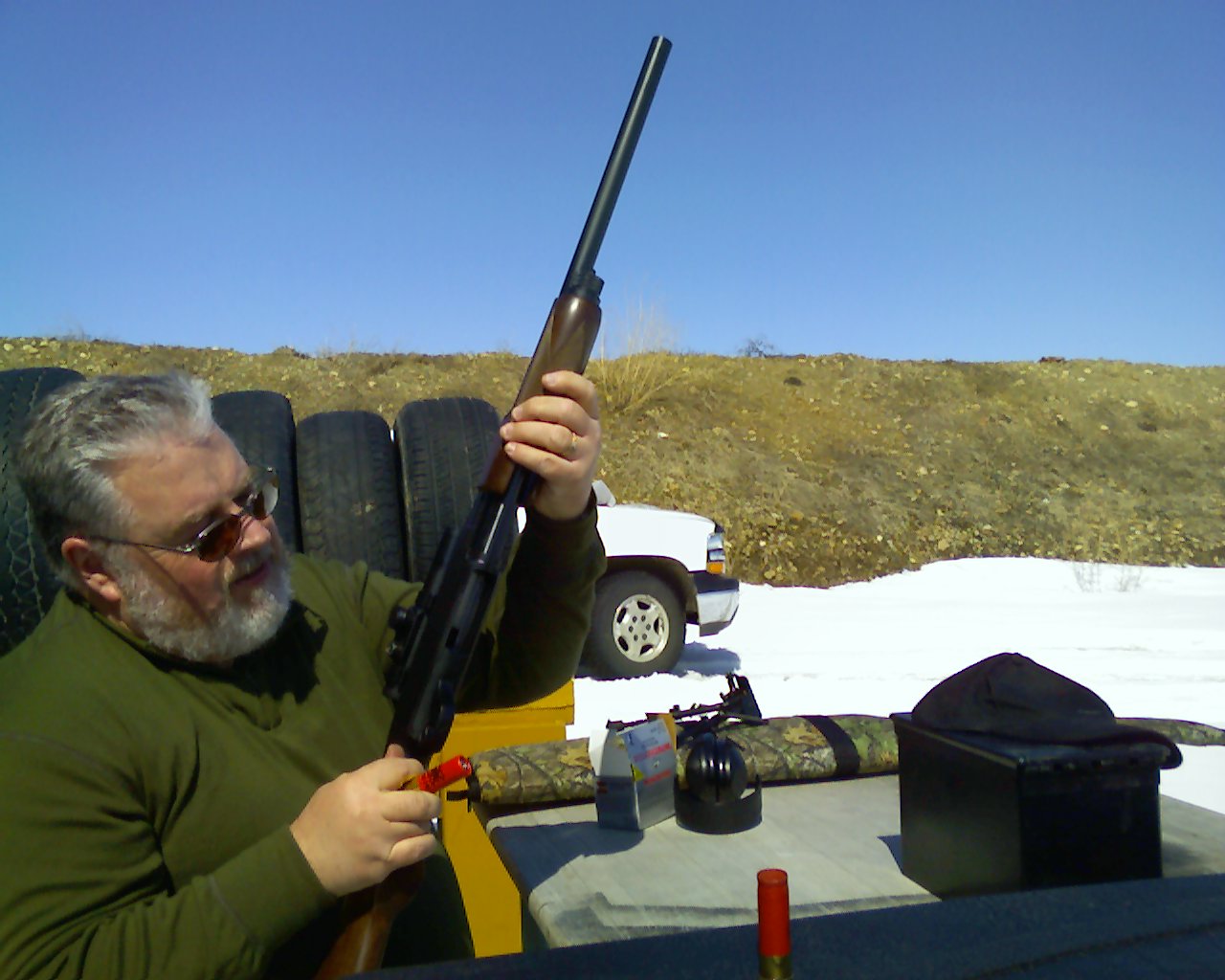 Clint Blyth (Brother) and John Blyth (Son) (to Chuck Blyth shown above in the 2011 section)
Chuck send me this first shot by accident but I liked it and asked if I could use it. He wrote back after getting permission and gave me a few more details. He wrote.... John is a firearms instructor. Ya the guy with the dredlocks is a firearms instructor. He is a very good shot. He shot the deer from well over four hundred yards down hill in really crappy winter weather sitting in the snow. One of those top of the valley to the bottom so was hard to judge bulet drop.
Fleming Sask. Nov 2010.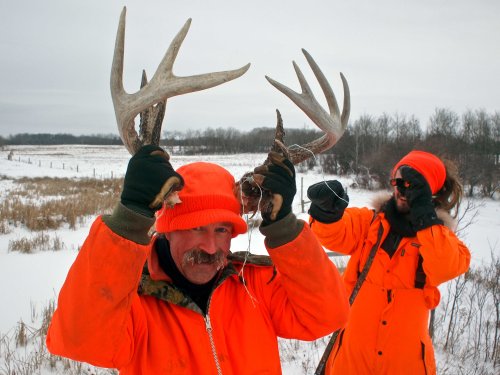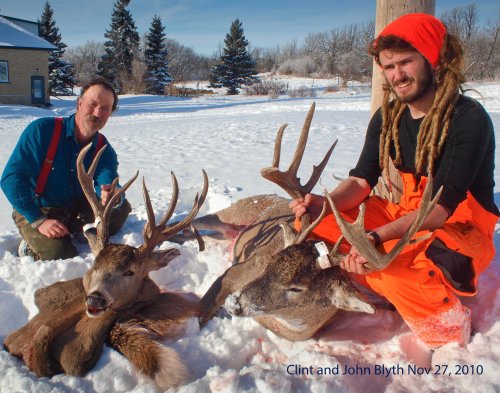 Jim Hillstead
333" Elk taken in Northern BC
2010
Tony Drain with his Bull Elk!
Taken early September of 2010.
Brad Neuls with his moose!
Fall 2010
Tim Woitas with his elk!
Fall 2010
Clay with his Antelope.
Fall 2010
Mel Marshall with his Mule Deer!
Taken in 2009 with a Ruger #1-S in 300 H&H African Limited Edition.
Three photo's from Sid and Erika Grey in Africa 2009!